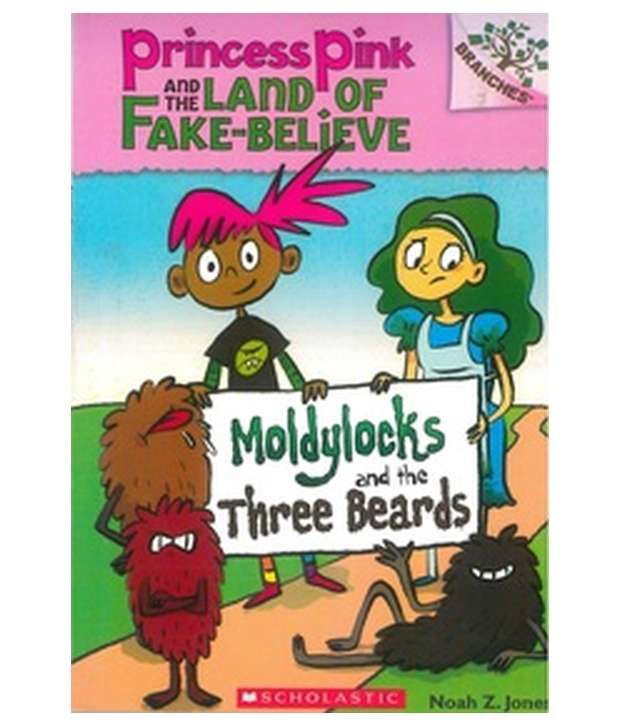 Meet our heroine. Her first name is Princess.  Her last name is Pink. You need to know that she does not like fairies, princesses or the color pink.  She does like dirty sneakers, mud, cheese pizza, monster trucks and giant bugs.  In fact she has taken the scissors to her pink fairy princess dress and turned it into a Cowboy Caveman outfit so she can hunt dinosaurs.
So, you can imagine quite well the night she crept downstairs after the lights were out, opened the fridge and fell right through into an unknown world and landed on a moose.  She gets up and discovers she has just arrived in Fake Believe Land.
Our dark-skinned heroine makes a new friend, Moldylocks,  and the two head off to the house owned by the Three Beards.  Yes, this fractured fairytale takes a wild twist nearly landing in the chili pot.  The Three Beards have Moldylocks and are about to lower her into the bubbling concoction.  This sounds like a job for Princess Pink!
Fun, adventure, upside down worlds and unexpected twists on the well-known experience of those notorious three bears.  It's a whole lot more fun with the Beards.
978-0545638401  Ages  6-10  73 pages
http://www.scholastic.com/branches/princesspink.htm
Editor's Note:  Also in this series: Little Red Quacking Hood
Recommended by: Barb Langridge, abookandahug.com